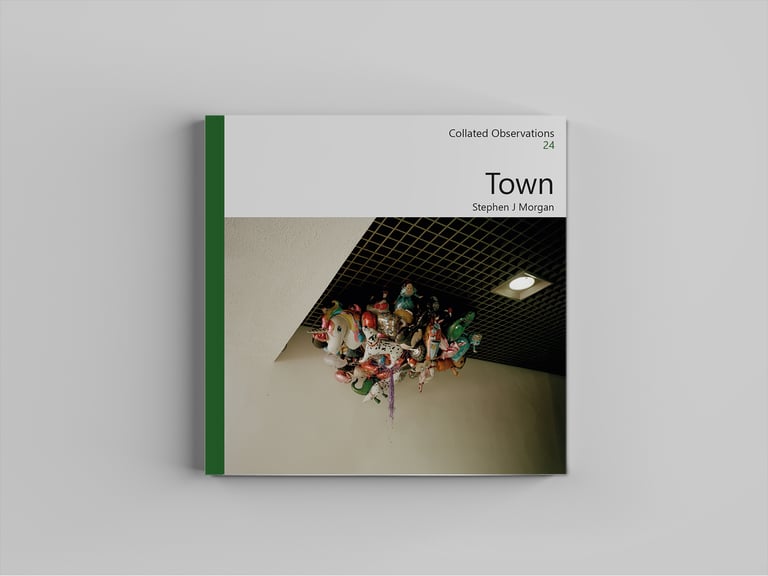 Town by Stephen J Morgan (Collated Observations 24)
Collated Observations is a series of regular photozines showcasing aspects of modern life through the lens of a different UK-based photographer each issue.
Stephen J Morgan was born in Birmingham in 1970. He graduated from The West Surrey College of Art with a BA(hons) in photography in 1995.
His work has been exhibited widely, including two solo shows at the prestigious Wapping Bankside Gallery in London. It is also held in various private collections, the Birmingham Central Library Photographic Archive, and Birmingham Museum & Art Gallery.
Town
"The word often associated with Stephen J Morgan's work is 'memory'. During his career he has returned to photograph spaces significant to his years growing up in Birmingham. The images in 'Town' were taken in and around the city centre between 2013 and 2015.
Therefore, it is significant that several of the images in this book capture scenes that have disappeared through development, the photographs a recollection of their existence. Birmingham has never shirked from taking a wrecking ball to buildings and landmarks in the name of progress. It's a city that never seems satisfied with itself.
In recent years, with the coming of new transportation routes, swathes of the centre have been torn up yet again. Morgan's images show the overlooked corners, underpasses and corridors once necessary to move people around the centre, long crushed to make way for a new vision of city living.
His pictures take in the grime of the concrete and tile but also show the humour, drama and eccentricity these urban places often provide. They remind us that a city is more than bricks, steel and glass, it's a character in the events played out within it."
Ltd run of 80 hand numbered copies.
40 pages cover-to-cover, perfect bound.
Digitally printed on 170gsm silk paper, 300 gsm cover with matt laminate.