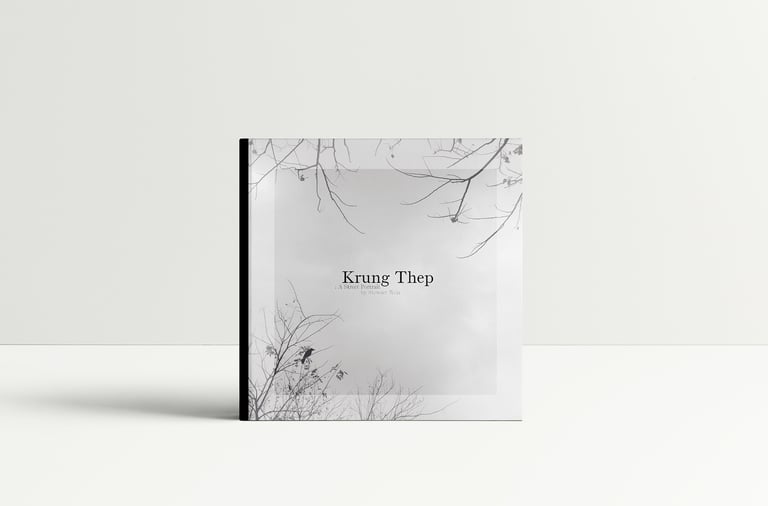 Krung Thep : A Street Portrait by Stewart Weir
£
14.00 -
£
25.00 —
On sale
In 2014 English photographer Stewart Weir spent six weeks wandering the streets of Krung Thep – known more commonly as Bangkok to the rest of the world – with his old Rolleiflex camera. In his daily excursions on foot he witnessed a city of great contradiction, where the remains of an ancient merchant hub rubs shoulders with a brash modern metropolis. A place where a traditional way of life is threatened not just by the advance of progress, but by the impending reality of rising sea levels. Using only black and white film, Stewart captured a series of impromptu portraits, beautifully composed candid street scenes, and the general ebb and flow of daily life.
"These images are not an attempt to uncover the cliche dark side of Bangkok or even make a definitive statement about the city. Rather, the photos are nothing more than my daily journey out the front door, putting one foot in front of the other to tread the pavement and gravel side roads. I trusted serendipity and the photo gods to show a glimpse of this sprawling metropolis of concrete and ancient history. "
Stewart's time in the city, which culminated in the documentation of social unrest and violent protests, has been collected together in this new book due for publication through ADM on November 19th (pre-sale from October).
Hardback book.
First edition run of 100 copies.
Signed giclée print available.
80 pages / 74 images.
Published: November 2021
About Stewart:
Stewart Weir is a professional photographer based in the south-east of England.
His work has been published internationally in National Geographic Traveller, Vogue (Brazil), The Times, The Daily Telegraph, The Observer, The Daily Mail, The Independent, The Guardian, The Face, Hello, Esquire, GQ, F1 Racing, Four Four Two, and The British Journal of Photography amongst others.
Stewart's 1997 self-published book, 'More Than Ninety Minutes' received critical acclaim from both the sporting and photographic press. He has also twice featured in the Cafe Royal Books series with 'After the Fall, Afghanistan 2002' and 'Brighton Beach', both published in 2014 and now out of print.